---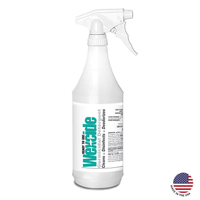 Meets the current OSHA requirements for cleaning and decontaminating spills of blood and other potentially infectious material (OPIM). 
Wex-Cide is a powerful one-step phenolic cleaner, disinfectant and deodorizer for decontamination of hard non-porous surfaces that have the potential to be contaminated by any potentially infectious material.
EPA Registration # 34810-31
Wex-Cide Healthcare Germicidal Disinfectant Cleaner has been the #1 germicidal, disinfectant cleaner for hospitals and healthcare facilities for decades because of its powerful virucidal and germicidal properties. 
Wex-Cide Healthcare Germicidal Disinfectant Cleaners are pre-mixed and ready-to-use
Broad Spectrum Cleaner: Tuberculocidal, Germicidal, Pseudomonacidal, Fungicidal and Virucidal
Effective against antibiotic resistant organisms, including MRSA, MRSE, Influenza A3 (Hong Kong), Pandemic 2009 H1N1 Influenza A Virus and VRE
Contact Time: 10 Minutes
Active ingredients: Ortho

-Phenylphenol 

and Ortho-Benzyl-Para-Chlorophenol
Effective in 5% blood serum
Cleans and disinfects in just one step, no pre-cleaning required
A powerful one-step cleaner, disinfectant and deodorizer
Use for disinfection of all hard, non-porous surfaces in Healthcare Facilities including Operating Rooms, Intensive Care, Nurseries, Emergency Areas and Dental Operatories
Recommended for use by Educational, Athletic and other Institutional Facilities as well as Police and EMS to decontaminate hard inanimate surfaces that have the potential to be contaminated by blood or other potentially infectious material (OPIM)
Easy to use non-aerosol dispensing cap on bottle
Available in ready-to-use spray for broad coverage, pull-top for direct application and convenient refill bottles
Effective in blood serum: Products that are effective in the presence of organic soil such as 5% blood serum are classified as one step cleaner/disinfectants (EPA DIS TSS-2)
Excellent cleaner/detergent
Proudly Made in the USA